OBJECTIVE
The brief looked at representing South Korea's most popular RnB and Hip-Hop artists to showcase in Korea's DAZED online blog and social media accounts. Each artist should carry a list of song titles to celebrate their success as Korea's most forward-thinking and trend-setting musicians.
CHALLENGES
With infinite ideas to showcase South Korea's music, the challenge was how to give the graphics a recognisable, modern appeal to compete with the magazines ever-growing list of artist features.
The solutions needed to increase online readership and increase traffic using eye-catching visuals. While Korean music (KPOP as it's currently known) are full of experimental and quirky visuals, the visual style of this project had to represent a cleaner, confident and sophisticated side of the Korean hip-hop music industry.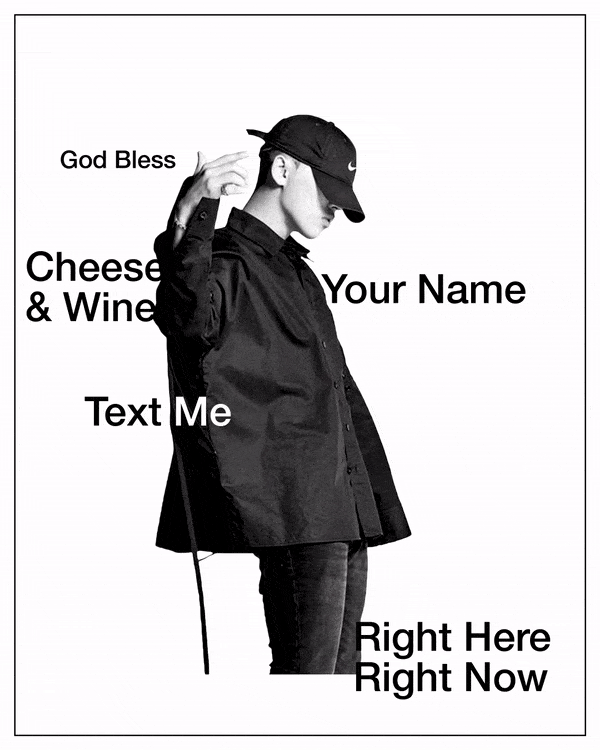 SOLUTION
Design decisions included one typeface, Helvetica Neue and a custom brush script. The mix of typefaces helped identify the artist's most notable songs creating a dynamic composition that can be translated across multiple channels.
A black and white concept gave the series a tense yet urban vibe. The lack of colour created a sense of mystery and sophistication.
To set the graphics apart from the sea of static images, motion typography for Instagram stories were utilised to spark interest and engagement and drive users to view the artist's account.
RESULT
The graphic solutions are a jump for Dazed but there is an opportunity to connect with users by showcasing featured artists using hand-drawn motion typography. Utilising Instagram Stories will help to cement Dazed positioning as the most influential fashion and culture platform.